Product Reviews
Ever notice that most cannabis reviews concentrate on the flavour, scent (terpenes), THC content or how nice the buds look? We would much rather read how the product affected your head pain! If you have a product that you find helpful, please consider sending us a review to post. If you tried something new that exacerbated your pain, we want to hear that too. Let's see if we can curate the ultimate list of cannabis products as chosen BY migraine patients FOR migraine patients!

Emerald Botanicals Extra Strength CBD Oil
Emerald Health Botanicals is a Licensed Producer in Canada that is accessible to any ACMPR licensed patient.
If you are not digging the CBD you have right now, it's time to ditch the ex and order up some of this business!
Truth: it tastes pretty terrible. But it is Potent AF and I just squeeze the desired amount into some empty capsules and pack those magic bullets in my pill container. I actually panic a little if I don't have any with me.
Truth: You may have to save up some cash. At $150 it sounds pricey – but if you break it down you are only paying $0.10 per ml, which is among the lowest out there. It gives you more bang for your buck because at 51mg/ml (!!) you can take less and still reap the benefits.
Why am I gushing about it? No, they aren't paying me.
It is because this oil consistently gives me 75-100% relief. It is one of the only CBD oils to ever abort one of my migraines. That doesn't mean it will do the same for YOU… everyone is different. But I can always count on relief with this product, even if the pain creeps back and I have to redose a few hrs. later (this is common).
My prescription just expired and I am butthurt because I have to wait another 3 weeks for my renewal.
Emerald Health Botanicals I wish I knew how to quit you!
xoxo
MigraineBuds
Visit: https://www.facebook.com/emeraldhealthbotanicals/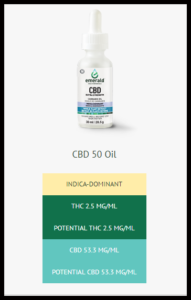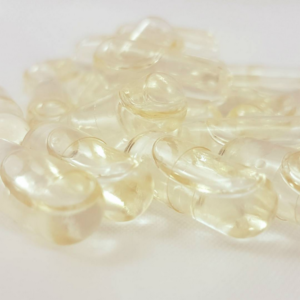 Fritz's Cannabis Company CBD Capsules 10mg each
These caps are made with CBD isolate, dissolved in MCT oil. They contain 10mg of pure CBD each. I started with a single cap, on a regular headache. It eased the pain within half an hour and the headache disappeared within an hour. I repeated this the next day on another headache and the same thing happened! From there I was ready to put these little guys to a real test so I stepped it up from there.. I had nerve blocks done and the injections caused a lot of swelling, bruising and triggered a migraine. The migraine wasn't high on the pain scale, but I had that fuzzy, chemical-y brain fog feeling that comes with migraines that often ramps up into pain. Two caps broke through the fuzz and the relief lasted 2-3 hours. I was very impressed. I re-dosed, and had more relief from the chemical fuzz, but it didn't help so much with the outside bruising/swelling pain. Then I got hit with a level 9. I tried dosing twice with two caps each time and they didn't touch it. The next day I took 3. They still didn't do much, but I might have needed a super hit, or maybe this migraine needed some THC to go with the CBD. I'm very eager to experiment with these some more. I'm SUPER enthused about them based on the first two "trials". These are the best CBD caps I've gotten my hands on in a very long time.
Aphria CBD Oil – 12.8mg/ml
Got some new CBD oil in my hot little hands. This one is from Aphria, and so far it's not as effective as I was hoping. I've used it on 2 migraines and a couple headaches so far, and I am not experiencing the relief I did with Tilray's oil. I'm up to a full ML now, which isn't a pleasant amount of oil to have in my mouth… at least the carrier is MCT oil which doesn't have much of a flavour. Last gripe: their syringe doesn't fit into the bottle properly, so pulling the oil in can get a little messy. Looks like I will have to find something a little more potent while I figure out how to dose myself with 2ml of this stuff.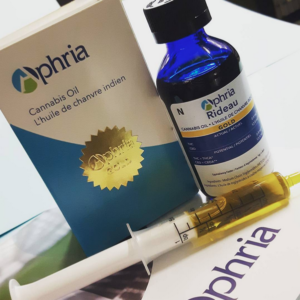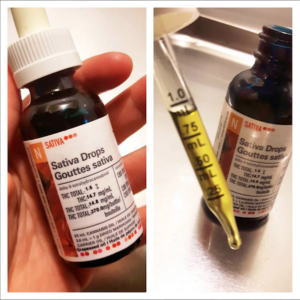 Tilray Sativa Drops – THC 14.8mg/ml CBD 0.3mg/ml
HELLO, Daytime Relief! I only need half a dropper of Tilray's Sativa Oil and it lasts for hours. Takes 30 mins to an hour to take effect for me. Newbies, I'd recommend just .25 to start but veterans could probably go for the full monty. Doesn't eliminate my migraines but allows me to be at work despite them. Pow pow pow!
Strain - CANNATONIC – High CBD hybrid
Cannatonic is the most helpful strain I've tried in a long time. With high CBD and low THC content it is a great starting point for pain patients new to Cannabis. It has a great calming effect on my migraine, and I feel more comfortable after vaping it. I also enjoy a slightly sedative effect from it, which was welcome last night when my Triptan failed. I have begun mixing Cannatonic with other strains such as Blue Dream in an attempt to find my perfect blend!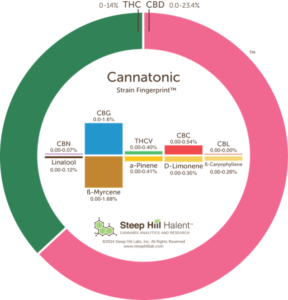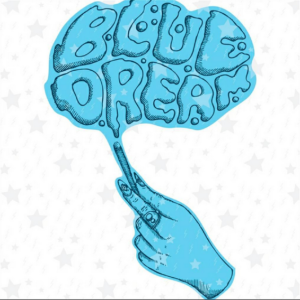 Strain - Blue Dream – Sativa Dominant
Most people will steer you towards Indica for pain relief, but this Sativa dominant strain had me back on my feet today! It didn't eliminate my migraine but there was a pleasant head buzz that wasn't too strong and it allowed me to be productive despite the pain. It also did not make me drowsy which is a nice change for an Indica girl. I paired it with CBD oil for extra pain relief.
EP Infusions Blonde Bar THC 120mg
Sativa dominant edibles FTW! This heavenly Blonde Bar has been the subject of medicinal AND recreational testing in my home for the last month or so. I don't often indulge recreationally, but this bar makes me feel like I'm floating on a little cloud. The combination of indulging in artisanal chocolate AND medicating for pain makes for true comfort eating. Each square contains 5 mgs of THC and if that's true then I'm a lightweight because I haven't eaten more than 2. The only downside is having to limit myself when all I want is to eat the whole damn thing.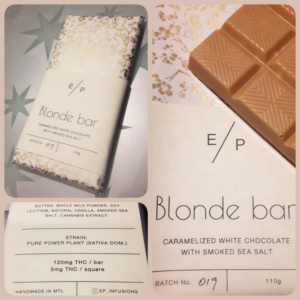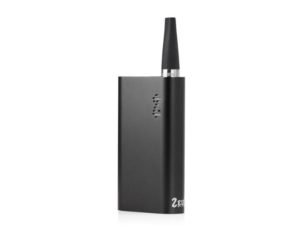 ZEUS Smite - Vaporizer
I bought this little walkie talkie lookin guy while trying not to spend $400 on the Pax2. This is a really solid portable vape! It holds a charge longer than literally anything else I own, vaporizer or otherwise. It's especially discreet when you hide the mouthpiece in its little chamber in the bottom. It looks like an external hard drive. At $129 CAD it's an awesome starter vape. No complaints other than it being a little heavy. But it is super easy to use, and there are glass straws available for those who don't like the rubber mouthpiece. Highly recommend!
ARIZER Solo - Vaporizer
Some people soothe their pain with ice packs or peppermint oil. I don't stray far from my vaporizer. I hate smoking joints. Edibles and Cannabis Oil work great for me, but they can take some time to work. When I need some immediate relief I turn to this guy again and again. The only part I dislike is that if you grind your flower too fine, you will suck up little particles through the straw. And the straw is kind of a pain to clean. Okay so there's two negatives. Overall though one of the best units I've tried!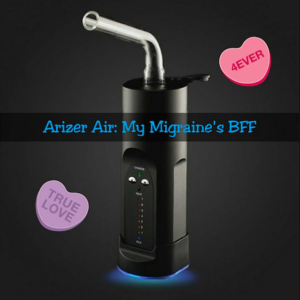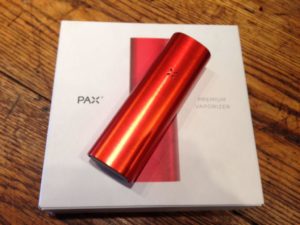 PAX 2 - Vaporizer
This was my dream vape for a few years and I FINALLY own one!!! Sorry to say, but my Arizer Solo hasn't been used in quite a while. People always ask in the Pax2 is worth the money. I'd say no, but in trying not to buy this one I went and bought 3 other portable vapes. I should have just bought the one I wanted in the first place. It's discreet (especially the black one), there are 4 temperature settings and the oven is plenty big enough for me. It comes with two styles of mouthpiece and a little cleaning kit. It holds a charge for a decent amount of time (10 short sessions) and it's easy to clean. I've had it for 4 months now and I'm still excited to use it! Two thumbs up for my new baby. Downsides? Price and the oven screen fell out 3 times before I finally lost it for good.
Cherry Oil Capsules 50mg each
So these capsules are actually tiny!! And very misleading. I took one during a brutal migraine and thought "what could these little tic tacs actually do?" I would tell you, but I don't actually remember. I think I ate a lot of food with the fridge door open. LOL but after I finally woke up the next day my pain level went from a 8 to a 2. And STAYED there.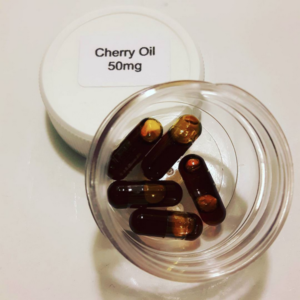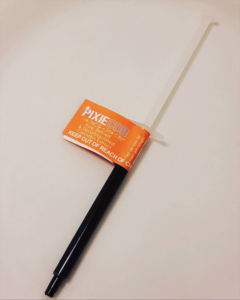 PixieCBD Cannabis Extract
Mixed feelings about this product. It is labelled 36% CBD 1%THC. This should not have had any psychoactive effects, but it was incredibly strong. I'm wondering if is actually RSO (Rick Simpson Oil) and mislabelled. This could have been a very negative experience for someone, so I don't take mislabelled products lightly.
With that being said, it did help my migraine… It went from a 7 to a 2 overnight. I've learned that I can only take the size of a grain of rice or less, and only at bedtime. If this was the CBD oil it was labelled to be, I'd be able to take it at work!