Hot Topics in Migraine panels and Annual Migraine Awards Dinner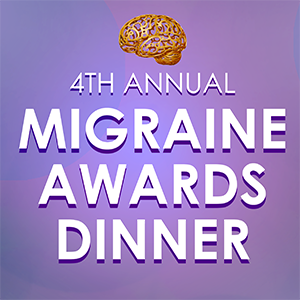 The Migraine Symposium – Community Program
Saturday, March 30, 2019 | 12:00 – 6:00 Pm
Salomon Center For Teaching At Brown University,
75 Waterman Street, Providence, RI
Website:
https://migrainedisorders.org/events/annual-awards-dinner
Tickets can be purchased here!
https://www.eventbrite.com/e/community-migraine-symposium-and-awards-dinner-general-public-tickets-53696794558
Join the Association of Migraine Disorders on March 30th to shine light on the third most prevalent disease in the world, migraine disease. This one-day event will begin with two simultaneous symposiums led more than 25 experts and advocates in migraine, covering various hot topics. The excitement continues with a networking and awards dinner following the migraine symposium.
---
The Migraine Symposium – Community Program
Saturday, March 30, 2019 | 12:00 – 6:00 pm
Salomon Center for Teaching at Brown University, 75 Waterman Street, Providence, RI
12:00 – 1:30 pm New Innovations in Care
Richard Kraig, MD – Co-founder/CSO of Seurat Therapeutics, Inc.
Novel nasal spray of Insulin-like Growth Factor 1
Blake Gurfein, PhD – Engineer, VP Research & Scientific Affairs, Tivic Health
Neuromodulation around the eye
Jason Cook, MD – Founder/CEO of Relaspen – ​intranasal device for SPG block
Shivang Joshi, MD​ ​- D​ ent Neurologic Institute – ​potential therapeutic targets
1:15 – 1:30 pm – Panel Discussion/ Q&A
1:40 – 4:20 pm Clinician's and Patient's Perspectives
CGRP blockers
Norman Gordon, MD – Chief of Neurology, Miriam Hospital Shoshana Lipson – ​CGRP & Migraine support group on Facebook
Cluster
Ashley Hattle – author of ​Cluster Headaches: A Guide to Surviving One of the Most Painful Conditions Known to Man
Bob Wold – President of Cluster Busters, Inc.
Medical Marijuana
Todd Handel, MD – Interventional Physiatrist, Pain Management
Jodie Epstein – founder of MigraineBuds.com
Acupuncture for Migraine
Mariah Stump, MD – Clinical Assistant Professor, Women's Medicine Cooperative
OnabotulinumtoxinA for Chronic Migraine
Carolyn deBeauport, NP – Neurology Center of New England
4:00 – 4:20 pm – Panel Discussion/ Q&A
4:30 – 5:45 pm New Innovations in Research
Diane Lipscombe, PhD – Professor of Neurology, Carney Institute For Brain Science, Director
Christopher Gottschalk, MD – Director, Department of Neurology, Yale University
Yiheng Tu, PhD – Research Fellow, Department of Psychiatry, Massachusetts
General Hospital 5:25 – 5:45 pm Panel Discussion/ Q&A
---
Migraine Awards Dinner
Sayles Hall, Brown University, The College Green, accessed via archway at 75 Waterman St, Providence, RI
An evening to strengthen the migraine community and to honour some special people working to improve the lives of those living with migraine
6:00 pm Cocktails
7:00 pm Dinner
Innovation Award Winners:
From The Carney Institute for Brain Science:
Diane Lipscombe, PhD – Chris Moore, PhD – Carl Saab, PhD – Julie Kauer, PhD
Impact Award Winner:
Cathy Glaser, Migraine Research Foundation
Advocacy Award Winners:
Jodie Epstein – Danielle Fancher – Ashley S Hattle
Tickets: $10 symposium – $25 dinner
For more information and to register, visit amdfundraiser.org
*Seating is limited and advanced registration is required