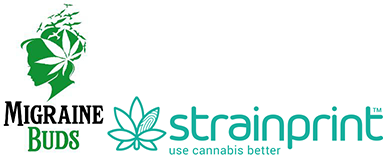 1K Giveaway
Rules & Regulations
To enter the MigraineBuds & Strainprint 1K Giveaway, member must download Strainprint and enter the activation code: migrainebuds *This is crucial, as this is how we will know you have downloaded the app. If you do not enter this code during setup, we will not know you have entered the raffle and you will not qualify.
Please make sure your Strainprint name matches your Facebook name and include the email address you would like us to contact you with if you win.
For extra chances to win, follow MigraineBuds on Twitter, Instagram or Facebook! Each account that you follow will give you an extra entry. Simply follow @migrainebuds on Twitter and Instagram, or Like /migrainebuds on Facebook and post or comment with the hashtag #migrainebuds1k so that we know who's joined us. NOTE: if you win via these ballots but have not downloaded Strainprint, your entry will be void.
Draw will be held on July 4th, 2017. Winners will be announced on our Facebook group and contacted by email. If you do not respond within 24 hours, you forfeit your prize to the next person drawn.
Prizes include one (1) AirVape XS cannabis vaporizer, valued at $280 CAD, and three (3) Rocket Grinders, valued at $50.00 CAD each.
MigraineBuds will pay to ship prizes to winners but cannot guarantee there will not be duty fees incurred by sending the item to another country. MigraineBuds cannot be held responsible for these costs.
Prizes will be sent with tracking numbers, however MigraineBuds cannot be held accountable for packages that get lost or damaged in transit.
Good Luck!